2021 New Updated PMI PgMP Training Questions
By Examgood | February 23,2021 02:54 AM
PMI PgMP training questions have been updated, which contain 452 Q&As. The Program Management Professional PgMP is a visible sign of your advanced experience and skill and gives you a distinct advantage in employment and promotion. Regardless of how advanced your program management experience or education might be, you should still prepare vigorously for the PgMP exam. I collected PMI PgMP exam information for you to prepare the test.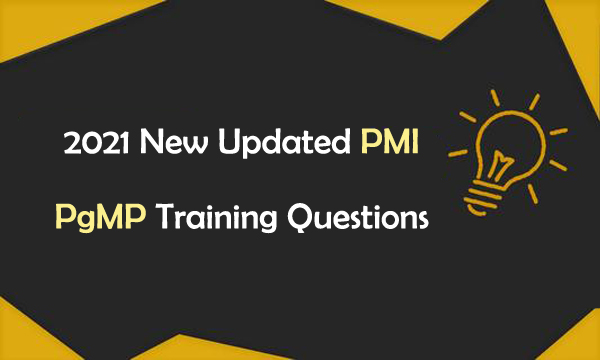 PMI PgMP Exam Information
Number of questions: 170 multiple-choice questions
Duration: 4 hours
Exam fee for member: $800
Exam fee for member: $1000
Note: To maintain your PgMP, you must earn 60 professional development units (PDUs) every three years.
PgMP PMI Certification Exam Domains
PMI PgMP exam domains cover the following details.
Domain I: Strategic Program Management
Domain II: Program Life Cycle
Domain III: Benefits Management
Domain IV: Stakeholder Management
Domain V: Governance
Study PMI PgMP Updated Training Questions
PMI PgMP updated training questions can help you test the above domains. Study the updated PMI PgMP exam training questions and answers below.
1.You are the program manager for your organization. You and your program team have been creating and transferring the program benefits to operations as feasible in your program execution. The process of delivering the program's benefits describes what process in program management?
A. Quality control
B. Benefits management
C. Direct and manage program execution
D. Quality assurance
Answer: C
2.What is the present value of a program that will be worth $3,567,000 if it lasts for six years and the rate of return is five percent?
A. $1,550,850
B. $3,532,000
C. $2,502,750
D. $2,661,750
Answer: D
3.You are the program manager for the SRQ Program. You have rejected several change requests for the program scope. What must you do with the rejected change requests?
A. Communicate why the change request was rejected and record the results in the lessons learned documentation for your program.
B. Inform the stakeholders that their change requests have been rejected.
C. Communicate the change request status to the stakeholders and record the results of the change request in the change register.
D. Inform the stakeholders why their change requests have been rejected.
Answer: C
4.Where are negative risks recorded?
A. Negative risk register
B. Risk management plan
C. Risk register
D. Issues log
Answer: C
5.You are the program manager for your organization. Management would like to consider the present value for your program. If your program is predicted to be worth $450,000 in two years what is the present value of the program if the interest rate is six percent?
A. $400,498
B. $521,345
C. $505,620
D. $385,450
Answer: A