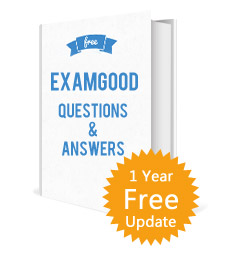 Pegasystems Pega Certified System Architect (PCSA) 8 PEGACPSA88V1
Product Description
Exam Code:PEGACPSA88V1
Exam Name:Certified Pega System Architect (V8.8)
Q&A:82 Q&As
Updated: 12-08-2023
| | | | |
| --- | --- | --- | --- |
| Number: | | | |
Get ready to excel in the PEGACPSA88V1 Exam for Pegasystems Pega Certified System Architect (PCSA) 8 with ExamGood's meticulously crafted study materials. Elevate your skills in system architecture and open doors to career advancement.
PEGACPSA88V1 Demo download
ExamGood PEGACPSA88V1 Exam Features
Pegasystems Pega Certified System Architect (PCSA) 8 PEGACPSA88V1 Exam
About Pegasystems
Pega is a leading provider of cloud software for customer engagement and operational excellence. Their AI-powered software helps optimize customer interactions across channels, while their low-code application development platform enables enterprises to quickly build and evolve apps for digital transformation. Pega has a track record of delivering higher customer satisfaction, lower costs, and increased customer lifetime value for over 35 years.
Pegasystems PEGACPSA88V1 Exam
The Certified Pega System Architect version 8.8 certification is designed for developers and technical staff members who want to learn how to develop Pega applications. It serves as the first level in the System Architect certification path and assesses your knowledge of Pega applications.
The Certified Pega System Architect exam, with code
PEGACPSA88V1
. Certified Pega System Architect exam consists of 60 questions to be completed within 1 hour and 30 minutes. The passing score is 65%. The exam code is PEGACPSA88V1 and it is available in English.
Exam topics
Case Management(33%): The Certified Pega System Architect course covers designing case lifecycles, setting case statuses, adding instructions to tasks, configuring service level agreements, routing assignments, configuring approval processes, sending email correspondence, identifying duplicate cases, automating workflow decisions, pausing and resuming case processing, skipping stages or processes, configuring child cases, using automation shapes, automating decisions using decision tables and trees, and managing teams of users.
Data and Integration(23%): This document discusses various tasks related to configuring and manipulating data in Pega systems, including creating data types, objects, and relationships, validating data, accessing and saving data, simulating external data sources, and configuring field values and application settings.
Security(5%): Manage user and role assignments Configure security policies
DevOps(5%): Certified Pega System Architect focuses on recording unit tests, creating and executing scenario-based test cases, and identifying best practices for configuring unit tests.
User Experience(12%): The Certified Pega System Architect course from Pega Academy covers various topics including customizing user interface elements, configuring action sets, customizing form appearance and visibility settings, adding and removing fields, grouping fields in views, displaying list data, localizing application content, and enabling accessibility features.
Application Development(12%): Certified Pega System Architect course from Pega Academy covers managing application development, using the Estimator tool for scoping projects, creating and maintaining rules, rulesets, classes, and inheritance, and debugging application errors.
Reporting(5%): Create business reports Identify types of reports Use columns and filters Describe the benefits of using Insights
Mobility(5%): Configure mobile app channels Use of Pega Mobile Preview
Before you begin.
To become a Certified Pega System Architect, users must register for and take the exam through Pearson VUE. There are two options for exam delivery: taking it at a test center or taking it online with remote proctoring.
Exam Resource
ExamGood is your go-to source for Pegasystems Pega Certified System Architect (PCSA) 8 PEGACPSA88V1 Exam Questions. We offer convenient and reliable exam materials to help you prepare and succeed in your certification journey.
With ExamGood, you can expect the following benefits:
1. Instant download after purchase: Once you make a successful purchase, you can immediately access and download the exam questions. No waiting time, so you can start studying right away.
2. Available in PDF and software versions: Our exam questions are provided in both PDF and software formats. Choose the format that suits your preferences and study needs.
3. Free updates for one year: We understand that certification exams can undergo changes over time. That's why we offer free updates for one year from the date of your purchase. Stay up-to-date with the latest exam content and increase your chances of success.
4. 100% refund if you fail the exam: We are confident in the quality of our exam questions and believe that they can greatly contribute to your exam preparation. In the unlikely event that you fail the exam after using our materials, we offer a 100% refund. Your satisfaction is our top priority.
Prepare for your Pegasystems Pega Certified System Architect (PCSA) 8 PEGACPSA88V1 exam with confidence and assurance. Trust ExamGood to provide you with reliable and effective exam questions that will help you achieve your certification goals.
Related News
Related Certifications
Related Exams
Hot Exams
Related Certifications
Customer Feedback

PEGACPSA88V1 Exam Passed!

With ExamGood's unwavering support, I scaled to my exam goals. Their top-tier PEGACPSA88V1 materials reflect a commitment to excellence that deserves applause.

PEGACPSA88V1 Exam Triumphed

ExamGood Pega Certified System Architect (PCSA) 8 PEGACPSA88V1 study materials represent an invaluable asset in one's exam toolkit, delivering a comprehensive overview of the subject matter.

PEGACPSA88V1 Exam Completed!

Thanks to ExamGood exceptional PEGACPSA88V1 practice questions, I felt well-prepared and confident on exam day. Their realistic simulations were incredibly helpful.