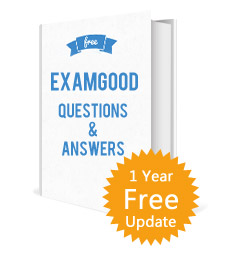 Pegasystems PCDS PEGACPDS88V1
Product Description
Exam Code:PEGACPDS88V1
Exam Name:Certified Pega Data Scientist 8.8
Q&A:140 Q&As
Updated: 12-08-2023
| | | | |
| --- | --- | --- | --- |
| Number: | | | |
Prepare for the PEGACPDS88V1 exam and become a Certified Pega Data Scientist with ExamGood. Our comprehensive study materials and expert guidance ensure your success.
PEGACPDS88V1 Demo download
ExamGood PEGACPDS88V1 Exam Features
Pegasystems PCDS PEGACPDS88V1: Certified Pega Data Scientist 8.8 Exam
Exam overview:
The Certified Pega Data Scientist certification exam is designed for data scientists to learn the skills and knowledge required to apply AI in Pega Process AI, Pega Customer Decision Hub, and Pega Customer Service. The certification covers Pega's next-best-action paradigm, predictive, adaptive, and text analytics models, and using predictions in case management and customer engagement.
Certified Pega Data Scientist exam through Pega Academy consists of 50 questions to be answered in 1 hour and 30 minutes with a passing score of 70%.
Exam topics
AI for Customer Decision Hub (6%)
Customer Decision Hub overview
Customer Decision Hub predictions
Adaptive Analytics (28%)
Adaptive models
Monitoring adaptive models
Exporting adaptive model data
Predictive Analytics (25%)
Creating predictions and predictive models
MLOps
Prediction Patterns (22%)
Creating and understanding decision strategies
Defining prediction patterns
Governance (3%)
Governance
Pega NLP (8%)
Text analytics for email routing
Using entity extraction with chatbot channel
Pega Process AI (8%)
Predicting fraud
Predicting case completion
To become a Certified Pega Data Scientist, users must register for and take the exam through Pearson VUE, either at a test center or online via webcam in a quiet, uninterrupted room.
ExamGood PEGACPDS88V1 Certified Pega Data Scientist 8.8 Exam Questions
Purchasing and Downloading
Once you purchase the exam questions from ExamGood, you can immediately download Pega Data Scientist 8.8 PEGACPDS88V1 Exam in either PDF or software format. This allows you to study and practice the exam questions at your own pace, whenever and wherever you want.
Free Updates and Refunds
At ExamGood, we understand that exam content can change over time. That's why we offer one year of free updates on all of our exam questions. This ensures that you have access to the most up-to-date Pega Data Scientist 8.8 Exam when preparing for your exam.
If for any reason you do not pass your exam after using our resources, we offer a money-back guarantee. Simply contact us and we will process your refund promptly.
Related News
Related Certifications
Related Exams
Hot Exams
Related Certifications