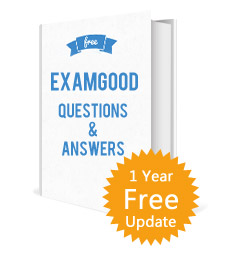 Cisco CCNP Enterprise 350-401
Product Description
Exam Code:350-401
Exam Name:Implementing and Operating Cisco Enterprise Network Core Technologies (ENCOR)
Q&A:747 Q&As
Updated: 09-21-2023
| | | | |
| --- | --- | --- | --- |
| Number: | | | |
Prepare for Cisco CCNP Enterprise 350-401 ENCOR with Examgood's comprehensive exam resources, and conquer the world of networking!
350-401 Demo download
ExamGood 350-401 Exam Features
Cisco CCNP Enterprise 350-401 ENCOR Introduction
Cisco CCNP Enterprise 350-401 ENCOR is a prestigious certification exam that sets the stage for IT professionals to demonstrate their expertise in enterprise networking. This comprehensive exam covers a wide range of networking topics, enabling candidates to showcase their skills in implementing, operating, and troubleshooting enterprise-level networks. In this article, we will delve into the key aspects of the
CCNP Enterprise 350-401 ENCOR exam
and explore why it is an essential step in advancing your networking career.
The Significance of CCNP Enterprise Certification
The CCNP Enterprise certification holds immense value in the IT industry, as it validates a candidate's ability to design and manage complex enterprise-level networks. Earning this certification showcases a higher level of proficiency in networking technologies, making CCNP Enterprise holders highly sought after by employers. The knowledge gained during the exam preparation prepares professionals to take on challenging roles in network design, implementation, and optimization.
CCNP Enterprise 350-401 ENCOR Exam Overview
CCNP Enterprise 350-401 ENCOR exam is scheduled to last for 120 minutes to provide candidates with ample time to demonstrate their knowledge and skills. In addition to English, the exam is also available in Japanese to cater to a wider audience. The cost of the exam is $400 USD, which includes all necessary fees and materials required for the examination. The CCNP Enterprise 350-401 ENCOR exam covers various domains, including network architecture, virtualization, infrastructure, network assurance, and security. Candidates will be assessed on their understanding of the latest networking technologies, such as SD-WAN, wireless networks, network automation, and security principles. The exam is designed to test not only theoretical knowledge but also practical skills, ensuring that certified professionals are well-equipped to handle real-world networking scenarios.
CCNP Enterprise 350-401 ENCOR Exam Topics:
The CCNP Enterprise 350-401 ENCOR exam comprises several key topics that candidates must master to pass successfully. Some of the major domains include:
Architecture: Understanding the design principles of enterprise networks, including virtualization and infrastructure.
Automation: Implementing and managing network automation using tools like Cisco DNA Center and Python scripting.
Network Assurance: Monitoring and troubleshooting network performance using tools like SNMP and NetFlow.
Security: Implementing and managing network security measures to protect against cyber threats.
Preparing for CCNP Enterprise 350-401 ENCOR
Proper exam preparation is crucial for success in the CCNP Enterprise 350-401 ENCOR exam. Candidates can choose from a variety of study resources, such as official Cisco training courses, practice exams, and study guides. Hands-on lab practice and real-world networking experience are also highly beneficial for gaining a deeper understanding of the exam topics.
Supercharge Your Cisco CCNP Enterprise 350-401 ENCOR Exam Prep with Examgood!
Examgood offers a remarkable advantage with its one-year free update policy. When you purchase our Cisco CCNP Enterprise 350-401 ENCOR exam questions, you automatically receive one year of free updates. That means you stay ahead of the curve with the latest exam content, ensuring your preparation is always relevant and up-to-date.
For just an additional $10, you can extend your access to updates for two years. This option guarantees you have ample time to refine your skills and tackle any new exam challenges that may arise.
Enhance Your Cisco CCNP Enterprise 350-401 ENCOR Preparation with Examgood's PDF and ICE Software!
Examgood offer a winning combination of PDF and ICE software to empower your exam preparation journey.
With our comprehensive PDF study material, you gain the flexibility to study anytime, anywhere. The PDF format allows you to access the study material on various devices, making it convenient for both on-the-go and focused study sessions.
Additionally, our cutting-edge ICE (Interactive Cert Exam) software provides a realistic exam experience. The ICE software simulates the actual exam environment, allowing you to practice under timed conditions and become familiar with the exam interface.
Examgood's Cisco CCNP Enterprise 350-401 ENCOR Guarantee!
At Examgood, we take pride in our commitment to your success in the Cisco CCNP Enterprise 350-401 ENCOR exam. Our confidence in the quality of our exam preparation materials allows us to offer an industry-leading guarantee.
If, against all odds, you fail the Cisco CCNP Enterprise 350-401 ENCOR exam, we've got you covered. Simply provide us with your official score report as proof of your attempt, and we'll initiate a prompt and hassle-free refund process.
But that's not all! To further support your journey towards certification success, Examgood offers an exclusive three-month payment refund period.
CCNP Enterprise 350-401 ENCOR Exam Conclusion
Achieving Cisco CCNP Enterprise 350-401 ENCOR certification is a significant milestone in any networking professional's career. This prestigious certification demonstrates a high level of networking expertise and opens doors to advanced career opportunities. With thorough exam preparation and dedication, candidates can enhance their networking skills and propel their careers to new heights. Embrace the challenge of CCNP Enterprise 350-401 ENCOR and unlock the full potential of your networking career.
Related Certifications
Customer Feedback

350-401 Exam Accomplished!

ExamGood CCNP Enterprise 350-401 study resources are a valuable tool for exam preparation. I found them to be quite helpful during my study process.

350-401 Exam Successfully Completed!

I am extremely grateful for ExamGood products, which helped me pass the 350-401 exam.