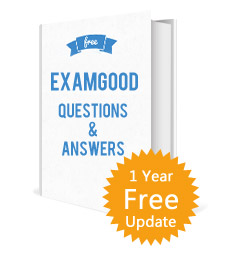 Cisco CCNA 200-301
Product Description
Exam Code:200-301
Exam Name:Implementing and Administering Cisco Solutions
Q&A:904 Q&As
Updated: 09-21-2023
| | | | |
| --- | --- | --- | --- |
| Number: | | | |
Cisco CCNA 200-301 is a widely recognized entry-level certification that validates your networking skills and knowledge.
200-301 Demo download
ExamGood 200-301 Exam Features
In the rapidly evolving world of IT, networking professionals are faced with the constant challenge of staying updated with the latest technologies and industry trends. Cisco, a global leader in networking solutions, offers a range of certifications that empower IT professionals to excel in their careers. Among these certifications, the Cisco Certified Network Associate (CCNA) 200-301 exam stands out as a critical stepping stone for individuals seeking to establish themselves as proficient networking specialists.
Overview of CCNA 200-301 Exam:
The CCNA 200-301 exam serves as a comprehensive assessment of a candidate's networking knowledge and skills. Replacing the previous CCNA exams, this new consolidated version covers a broad range of topics, designed to reflect the evolving demands of modern networking. The exam focuses on core networking concepts, such as network fundamentals, IP connectivity, network access, security fundamentals, and automation and programmability.
The CCNA 200-301 certification is not only the foundation for other Cisco certifications but also a testament to a candidate's dedication to professional development and excellence in networking. It is the entry point into the Cisco certification program, preparing individuals for the dynamic challenges of the IT landscape.
Key Benefits of CCNA 200-301 Certification:
Enhanced Career Opportunities: Earning the CCNA 200-301 certification significantly boosts a networking professional's career prospects. Employers worldwide value Cisco certifications, and CCNA holders are highly sought after for their expertise and skills.
Industry Recognition: Cisco is synonymous with networking excellence, and being a certified CCNA validates a candidate's proficiency in networking concepts and practices. This recognition opens doors to exciting career advancements.
Real-World Skills: Preparing for the CCNA 200-301 exam requires hands-on practice and practical application of networking principles. As a result, certified professionals possess the practical knowledge to solve real-world networking challenges.
Strong Foundation: The CCNA 200-301 certification builds a solid foundation for candidates aspiring to pursue advanced Cisco certifications, such as CCNP or CCIE. It paves the way for specialization in various networking tracks.
Preparing for CCNA 200-301 Exam:
To succeed in the CCNA 200-301 exam, a well-structured study plan and dedication are essential. Cisco offers official study materials, including books, videos, and online resources, to guide candidates in their preparation. Additionally, hands-on lab practice is crucial for gaining practical experience in configuring and troubleshooting networking devices.
Candidates can also benefit from joining study groups, participating in online forums, or seeking guidance from experienced networking professionals. Authorized Cisco training courses provide comprehensive instruction from certified instructors, ensuring candidates receive the best preparation for the exam.
Your Trusted Source for CCNA 200-301 Exam Questions with Free Updates!
One of the standout features of Examgood's offering is the one-year free update policy. With technology rapidly evolving, staying current with the latest exam content is crucial for success. Examgood ensures that candidates have access to the most up-to-date materials by providing free updates for a whole year from the date of purchase. This allows candidates to align their preparation with the latest exam objectives and industry trends.
For those who seek even more extended access to updated materials, Examgood presents the option to add $10 and enjoy two years of updates. This Extended Update Plan ensures that candidates remain well-prepared, even if the exam content undergoes significant changes during the two-year period.
Unlock Your Success with Examgood's PDF and ICE Software for CCNA 200-301 Exam!
When it comes to preparing for the CCNA 200-301 exam, having the right study tools is paramount. Examgood is proud to offer two powerful resources to aid your exam journey: PDF and ICE software.
PDF Study Material:
Examgood's PDF study material is a comprehensive guide that covers all the essential topics tested in the CCNA 200-301 exam. It provides a clear and organized layout, making it easy to grasp complex networking concepts. With the PDF, you can study at your own pace, allowing for flexible and effective preparation.
Interactive and Realistic ICE Software:
The Interactive and Realistic ICE Software is a game-changer in your exam readiness. It simulates the actual exam environment, presenting you with practice questions that challenge your knowledge and skills. The ICE software provides real-time performance feedback, helping you identify areas that need improvement and bolstering your confidence for the exam day.
Examgood's Confidence Guarantee: Payment Refund if You Don't Pass CCNA 200-301 Exam!
At Examgood, we understand the importance of achieving your certification goals. That's why we stand behind the quality of our exam preparation materials and offer a unique Confidence Guarantee: If you don't pass the exam, you're eligible for a payment refund!
Here's how it works:
Score Report Submission:
After taking the exam, if you unfortunately do not pass, simply provide us with your official score report as proof of your attempt.
Three Months Payment Refund:
Once we receive your score report, our dedicated customer support team will promptly process your refund request. Within three months from your original purchase date, you will receive a full refund for the amount you paid for the exam materials.
Cisco Certified Network Associate (CCNA) 200-301 Conclusion:
The Cisco CCNA 200-301 exam serves as a pivotal milestone for networking professionals, validating their skills and knowledge in the ever-changing IT landscape. With its focus on essential networking concepts and practical application, the certification equips individuals to meet the challenges of today's interconnected world. As technology continues to advance, the CCNA 200-301 certification remains a crucial asset for aspiring and seasoned networking professionals alike, leading them on a journey of lifelong learning and career growth.
Related Certifications
Customer Feedback

200-301 Exam Passed with Dedication!

ExamGood is not just a resource; it's a partner in your exam journey. Their CCNA 200-301 materials are like a guiding light, ensuring you stay on the right path to success.

200-301 Exam Successfully Completed!

Thanks to ExamGood, I now hold the 200-301 certification! Their products are worth every penny.