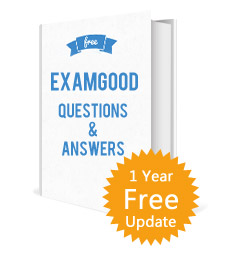 VEEAM VMCE VMCE2021
Product Description
Exam Code:VMCE2021
Exam Name:Veeam Certified Engineer 2021
Q&A:188 Q&As
Updated: 12-08-2023
| | | | |
| --- | --- | --- | --- |
| Number: | | | |
Successful completion of the VMCE2021 Exam demonstrates expertise in data backup, recovery, replication, and data management within virtualized environments. It is an essential certification for IT professionals and system administrators working with Veeam technologies.
VMCE2021 Demo download
ExamGood VMCE2021 Exam Features
The Veeam Certified Engineer 2021 (VMCE2021) exam is a certification that validates the expertise of IT professionals in designing, implementing, and managing Veeam Availability Suite, a leading data backup and recovery solution. This exam is tailored for engineers, system administrators, and consultants seeking to demonstrate their proficiency in Veeam's comprehensive data protection technologies.
Why Pursue VMCE2021 Certification?
Expertise in Veeam Solutions: VMCE2021 certification signifies in-depth knowledge and hands-on experience in deploying and configuring Veeam Availability Suite.
Data Protection and Disaster Recovery: As organizations increasingly prioritize data protection and disaster recovery, VMCE2021 certified professionals become invaluable assets.
Career Advancement: VMCE2021 certification enhances employability and opens doors to new career opportunities in IT infrastructure and data management.
Industry Recognition: Veeam certifications are highly respected in the IT industry, adding credibility to professionals' resumes.
Veeam Certified Engineer 2021 VMCE2021 Exam Topics:
Veeam Backup & Replication Overview: Understanding the architecture, components, and features of Veeam Backup & Replication.
Deployment and Configuration: Deploying Veeam Backup & Replication, configuring backup jobs, and managing backup repositories.
Backup and Recovery: Performing data backup and recovery operations, including full, incremental, and synthetic full backups.
Advanced Data Protection: Utilizing advanced features like backup copy jobs, tape backup, and cloud integration.
Monitoring and Reporting: Monitoring Veeam jobs, managing alarms, and generating reports for data protection performance.
Empower Your VMCE2021 Exam Success with ExamGood
ExamGood is your ultimate destination for a seamless and successful exam preparation journey. Let's explore the four remarkable benefits of using ExamGood website for your VMCE2021 Exam Questions:
1. Instant Download:
With ExamGood, time is of the essence! Gain immediate access to your VMCE2021 exam study materials upon purchase. No waiting, no delays—just instant access to high-quality resources to kickstart your preparation.
2. Printable PDF + ICE Software Download:
Diverse learning styles call for versatile resources! ExamGood offers both printable PDF study materials and interactive ICE Software. Study at your pace with the convenience of printable guides, and experience real exam simulations using the ICE Software for hands-on learning.
3. One Year Free Update + Add $10 for Two Years Updated:
Stay ahead with the latest exam content! ExamGood prioritizes your success and offers one year of free updates to ensure your materials align with the most recent VMCE2021 exam syllabus. Extend your access to updated study materials for an additional two years by adding just $10, guaranteeing you're well-prepared for success.
4. Three Months Payment Refund:
Your satisfaction is paramount. ExamGood offers a flexible payment refund policy within three months if you encounter any issues. Our commitment is to provide you with a risk-free and rewarding exam preparation experience.
Veeam Certified Engineer 2021 VMCE2021 Exam Conclusion:
The Veeam Certified Engineer 2021 (VMCE2021) certification is a testament to IT professionals' expertise in Veeam data protection technologies. By obtaining this certification, individuals demonstrate their ability to safeguard critical data and ensure business continuity. Whether seeking career growth or seeking to enhance their skills in data protection, VMCE2021 certified professionals are well-equipped to address the data challenges faced by modern organizations. Embrace the opportunity to become a Veeam expert and elevate your career in the realm of data backup and recovery.
Related News
Related Certifications
Related Exams