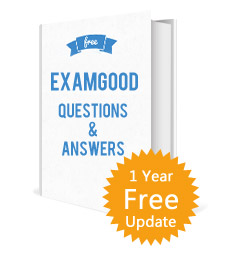 Palo Alto Networks PCNSE Certifications PCNSE
Product Description
Exam Code:PCNSE
Exam Name:Palo Alto Networks Certified Network Security Engineer Exam
Q&A:308 Q&As
Updated: 09-21-2023
| | | | |
| --- | --- | --- | --- |
| Number: | | | |
Elevate Your Career with Palo Alto Networks PCNSE Certification - Gain Expertise in Network Security.
PCNSE Demo download
ExamGood PCNSE Exam Features
Palo Alto Networks PCNSE Certification Introduction:
In today's interconnected world, securing networks against cyber threats is of paramount importance. As organizations face increasingly sophisticated cyber attacks, the demand for skilled cybersecurity professionals is on the rise. One such coveted certification in the field of network security is the Palo Alto Networks Certified Network Security Engineer (PCNSE) Certification. Designed for professionals seeking to validate their expertise in Palo Alto Networks technologies, this certification demonstrates your proficiency in protecting networks from cyber threats effectively.
What is the PCNSE Certification?
The PCNSE certification is a vendor-specific credential offered by Palo Alto Networks. It is recognized worldwide as a symbol of excellence in network security engineering. The certification exam validates your skills and knowledge in deploying, configuring, managing, and troubleshooting Palo Alto Networks' next-generation firewall appliances and related products.
Benefits of PCNSE Certification:
Expertise Validation: Earning the PCNSE certification confirms your expertise in network security engineering and demonstrates your competency in utilizing Palo Alto Networks products effectively.
Career Advancement: PCNSE certification opens doors to advanced career opportunities and positions you as a sought-after professional in the cybersecurity domain.
Industry Recognition: Being a globally recognized certification, PCNSE enhances your professional credibility and validates your skills in working with Palo Alto Networks solutions.
Enhanced Earning Potential: Certified professionals often enjoy higher earning potential and increased job market competitiveness.
Preparing for the PCNSE Certification Exam:
To succeed in the PCNSE certification exam, thorough preparation is essential. Here are some key steps to guide you on your journey to becoming a Palo Alto Networks Certified Network Security Engineer:
Understand the Exam Blueprint: Familiarize yourself with the exam blueprint, which outlines the topics covered in the exam and their relative weightage. This will help you plan your study accordingly.
Study Palo Alto Networks Resources: Palo Alto Networks provides official study materials, including training courses, practice exams, and documentation. Make use of these resources to build a solid foundation of knowledge.
Hands-On Experience: Gain practical experience by working with Palo Alto Networks products in real-world scenarios. Hands-on practice will reinforce your understanding and boost your confidence.
Join Study Groups and Forums: Engage with other aspiring PCNSE candidates through study groups and online forums. Sharing knowledge and experiences can be beneficial during your preparation.
Take Practice Exams: Practice exams are excellent tools to assess your readiness for the actual exam. Identify areas of improvement and focus on strengthening your weaker points.
Time Management: The PCNSE exam has a time limit, so practice time management while answering questions to ensure you complete the exam within the allotted time.
Stay Updated: Stay updated with the latest industry trends and Palo Alto Networks product updates. Regularly review official documentation to stay current with the technology.
Earning the Palo Alto Networks PCNSE Certification is a significant achievement that showcases your expertise in network security engineering. With this prestigious certification, you establish yourself as a skilled professional capable of securing networks against modern cyber threats effectively. By dedicating time and effort to comprehensive preparation, you can confidently tackle the PCNSE exam and embark on a rewarding career journey in the dynamic world of cybersecurity.
ExamGood Palo Alto Networks PCNSE Certification: 1 Year Free Updates + $10 for 2 Years!
At ExamGood, we offer Palo Alto Networks PCNSE Certification with the benefit of one-year free updates, and an optional $10 upgrade for an additional year of updates. This means you can stay up-to-date with the latest exam content and technology advancements for an extended period. Our goal is to provide you with the most comprehensive and current study materials, ensuring your success in the PCNSE Certification exam. Choose ExamGood and enjoy continuous support and access to the latest resources throughout your certification journey. Thank you for choosing ExamGood - your path to success in the PCNSE Certification awaits!
ExamGood Palo Alto Networks PCNSE Certification PDF and ICE Software!
At ExamGood, we provide Palo Alto Networks PCNSE Certification study materials in two formats: PDF and interactive software. The PDF version offers convenient access to comprehensive content, while our interactive software enhances your learning with practical hands-on experience. Choose the format that suits your learning style best and prepare confidently for the PCNSE Certification exam. With ExamGood, you can unlock your full potential and achieve success in the cybersecurity field.
Guaranteed Refund for Palo Alto Networks PCNSE Certification - Get Your Money Back!
At ExamGood, we stand behind our products with confidence. If you provide your own exam transcript as proof of failing the Palo Alto Networks PCNSE Certification, we will initiate an immediate refund. You have up to three months from the date of purchase to claim your refund. We prioritize your satisfaction and aim to provide a risk-free learning experience. Trust ExamGood for your PCNSE Certification journey - we've got you covered!
Related News
Related Certifications
Related Exams
Hot Exams
Related Certifications
Customer Feedback

PCNSE Exam Passed with Flying Colors!

I wish to express my gratitude for the PCNSE study materials provided by ExamGood. They strike a balance between conciseness and comprehensiveness, which greatly facilitated my comprehension of intricate concepts.

PCNSE Exam Successfully Passed!

ExamGood PCNSE study guide is a comprehensive and well-organized resource. It covers all the exam objectives and was my key to exam success.

PCNSE 6 exam test material

Your PCNSE 6 exam test material is useful, and I passed the exam successfully. Thanks.