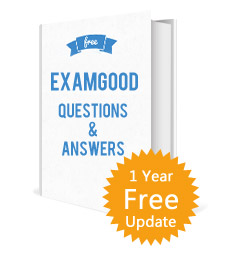 Microsoft Microsoft 365 Certified: Endpoint Administrator Associate MD-102
Product Description
Exam Code:MD-102
Exam Name:Endpoint Administrator
Q&A:235 Q&As
Updated: 12-08-2023
| | | | |
| --- | --- | --- | --- |
| Number: | | | |
Prepare for success in the Microsoft MD-102 exam with ExamGood's comprehensive resources. Master the skills needed to become a proficient Endpoint Administrator.
MD-102 Demo download
ExamGood MD-102 Exam Features
As a candidate for the MD-102 exam, you should have expertise in deploying, configuring, protecting, managing, and monitoring devices and client applications in a Microsoft 365 environment.
Managing identity, security, access, policies, updates, and apps for endpoints.
Implementing solutions for efficient deployment and management of endpoints on various operating systems, platforms, and device types.
Implementing and managing endpoints at scale by using Microsoft Intune, Windows 365, Windows Autopilot, Microsoft Defender for Endpoint, and Azure Active Directory (Azure AD), part of Microsoft Entra.
As an endpoint administrator, you work with various stakeholders to develop and execute a modern workplace strategy that aligns with the organization's goals. This role requires expertise in Azure AD, Microsoft 365 technologies (including Intune), and experience in deploying and managing Windows and non-Windows devices.
Important
The English language version of the
MD-102 exam for Endpoint Administrator certification
will be updated on November 1, 2023. The passing score for the exam is 700. Check the study guide for details on upcoming changes and the availability of localized versions.
Schedule exam
The Exam MD-102: Endpoint Administrator measures your ability to deploy Windows client, manage identity and compliance, maintain and protect devices, and manage applications. The exam fee is $165 USD.
Skills measured
The English language version of the MD-102 exam for Endpoint Administrator certification will be updated on November 1, 2023. Refer to the study guide for information on the skills measured and upcoming changes.
Deploy Windows client (25–30%)
Manage identity and compliance (15–20%)
Manage, maintain, and protect devices (40–45%)
Manage applications (10–15%)
Self-paced
MD-102 Explore endpoint management
MD-102 Execute device enrollment
MD-102 Configure profiles for user and devices
MD-102 Examine application management
MD-102 Manage authentication and compliance
MD-102 Manage endpoint security
MD-102 Deploy using on-premises based tools
MD-102 Deploy using cloud based tools
Exam resources
ExamGood is a reliable provider of Microsoft Exam MD-102: Endpoint Administrator Questions. Once you successfully make a purchase, you will be able to download the materials immediately. They offer convenient options in both PDF and software versions, allowing you to choose the format that suits you best.
One of the great advantages of using ExamGood is their commitment to keeping their materials up to date. They provide free updates for one year, ensuring that you have access to the latest information and resources. This is particularly valuable in a dynamic field like endpoint administration, where new technologies and techniques are constantly emerging.
In the unfortunate event that you do not pass the exam, ExamGood has got you covered. They offer an immediate refund, providing you with peace of mind and confidence in their service. This demonstrates their dedication to customer satisfaction and their belief in the quality of their products.
Whether you are preparing for the Microsoft Exam MD-102 or any other certification exam, ExamGood is a trusted choice. Their comprehensive question bank and prompt customer support make them a reliable resource for exam preparation. Don't hesitate to take advantage of their offerings and boost your chances of success.
Related News
Related Certifications
Related Exams