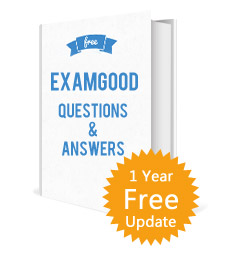 Juniper JNCIA-Junos JN0-104
Product Description
Exam Code:JN0-104
Exam Name:Junos, Associate (JNCIA-Junos)
Q&A:142 Q&As
Updated: 09-21-2023
| | | | |
| --- | --- | --- | --- |
| Number: | | | |
Prepare confidently for the Juniper JNCIA-Junos JN0-104 Exam with ExamGood's comprehensive resources. Gain immediate access to tailored study materials, select your preferred learning format, and embark on a journey to excel in Juniper networking. ExamGood empowers you to conquer the JN0-104 Exam with expertise.
JN0-104 Demo download
ExamGood JN0-104 Exam Features
The JNCIA-Junos certification is for networking professionals with beginner-intermediate knowledge of networking and verifies understanding of the core functionality of the Juniper Networks Junos OS. It serves as the baseline certification for the Enterprise Routing and Switching Certification Track and the Service Provider Routing and Switching Certification Track.
Juniper JNCIA-Junos JN0-104 Exam Preparation
We recommend the following resources to help you prepare for your exam. However, these resources aren't required, and using them doesn't guarantee you'll pass the exam.
This document provides information on the JNCIA-Junos certification offered by Juniper Networks. It recommends training courses such as "Getting Started with Networking" and "Introduction to the Junos OS," as well as exam resources including industry/product knowledge and the Juniper TechLibrary.
Juniper JNCIA-Junos JN0-104 Exam Objectives
Here's a high-level view of the skillset required to successfully complete the JNCIA-Junos certification exam.
The JNCIA-Junos Certification exam covers networking fundamentals, Junos OS fundamentals, user interfaces, configuration basics, operational monitoring and maintenance, routing fundamentals, and routing policy and firewall filters on Junos devices. Topics include collision and broadcast domains, routers and switches, Ethernet networks, IP addressing, subnetting, routing tables, routing instances, static routing, dynamic routing protocols, routing policy flow, and firewall filter concepts.
Juniper JNCIA-Junos JN0-104 Exam Details
The JNCIA-Junos Certification exam consists of 65 multiple-choice questions and is 90 minutes long. It requires no prerequisite certification and is only available in English. The exam covers Junos OS 21.2.
Unveiling the Power of ExamGood for Juniper JNCIA-Junos JN0-104 Exam Preparation
Embarking on the journey to become a certified Juniper Networks Certified Associate – Junos (JNCIA-Junos) is an exciting endeavor that opens doors to a world of networking expertise. The
Juniper JN0-104 exam
is a significant step towards achieving this certification, and ExamGood is here to guide you through the process. In this comprehensive blog post, we'll delve into the advantages of utilizing ExamGood's resources for JN0-104 exam preparation, highlighting how they can propel you towards success.
1. Instant Download: Your Path to Prompt Preparation
In the fast-paced world of IT certifications, time is of the essence. ExamGood understands the urgency and ensures that your preparation isn't hindered by waiting. Upon purchase, you gain immediate access to JN0-104 exam resources. Gone are the days of anxious anticipation – you can kickstart your learning journey without delay. Whether you're an early bird or a night owl, ExamGood aligns with your schedule, maximizing your study time efficiency.
2. Printable PDF + ICE Software: The Best of Both Worlds
Learning styles vary, and ExamGood caters to this diversity. Some learners thrive on the tactile feel of printed materials, while others are drawn to the immersive digital experience. With ExamGood, you don't have to choose – you get both! Study materials are available in printable PDF format and interactive ICE Software. This versatility empowers you to switch seamlessly between traditional reading and interactive simulations, tailoring your study approach to your preferences.
3. One Year Free Updates + Extended Options
In the ever-evolving landscape of networking, staying current is non-negotiable. ExamGood not only prepares you for present challenges but also equips you for the future. With one year of free updates, your JN0-104 exam resources remain aligned with the latest industry trends. And that's not all – for those who seek a more extended competitive edge, ExamGood offers the option to add just a nominal fee for two years of updated content. It's an investment in your continuous growth and relevance.
4. Refund Option: Your Assurance of Excellence
Confidence is the cornerstone of success. ExamGood's dedication to your triumph shines through in its refund policy. Within three months of using the JN0-104 exam resources, if you find your progress unsatisfactory, ExamGood offers a refund. This isn't merely a safety net; it's a testament to ExamGood's unwavering belief in the quality of its materials and your potential for success.
Related News
Related Certifications
Related Exams
Related Certifications
Customer Feedback

JN0-104 Exam Mastered!

I cannot express enough gratitude to ExamGood. Their support team is not only responsive but also exceptionally helpful, making JNCIA-Junos JN0-104 learning process a pleasure.

JN0-104 Exam Successfully Completed!

ExamGood JN0-104 study guide is a comprehensive and well-structured resource. It covers all the essential exam topics, making it a valuable study companion.