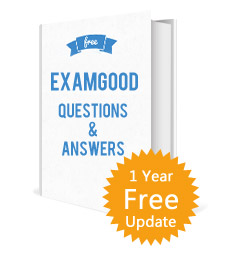 VMware VCTA-NV 2021 1V0-41.20
Product Description
Exam Code:1V0-41.20
Exam Name:Associate VMware Network Virtualization
Q&A:58 Q&As
Updated: 09-21-2023
| | | | |
| --- | --- | --- | --- |
| Number: | | | |
Prepare effectively for the 1V0-41.20: Associate VMware Network Virtualization exam with ExamGood's comprehensive study materials. Achieve success in your certification journey.
1V0-41.20 Demo download
ExamGood 1V0-41.20 Exam Features
The Associate VMware Network Virtualization Exam certifies a candidate's basic knowledge of the VMware NSX platform, including terminology and navigation of the graphical user interface(s).
Product: NSX Datacenter
Associated Certification: VCTA-NV 2023
Exam 1V0-41.20 : Associate VMware Network Virtualization Objectives
The VMware Certified Technical Associate - Network Virtualization 2023 exam consists of 30 single and multiple choice questions, is proctored, and lasts 90 minutes. The passing score is 300 out of a possible range of 100-500. The exam costs $125 USD and may contain unscored questions.
The 1V0-41.20: Associate VMware Network Virtualization exam evaluates candidates' skills and knowledge related to VMware network virtualization technologies. The exam objectives include:
VMware Network Virtualization Fundamentals: Understanding basic VMware network virtualization concepts, components, and benefits.
VMware NSX Components and Architecture: Familiarity with VMware NSX architecture, components, and integration with VMware vSphere.
VMware NSX Switching and Routing: Knowledge of NSX logical switching and routing, including configuration and operations.
VMware NSX Services: Understanding NSX services such as firewalling, load balancing, VPN, and security policies.
VMware NSX Integration: Integration of VMware NSX with third-party products and services, and deployment best practices.
Preparation Tips:
Study Resources: Utilize VMware's official study materials, including recommended reading, guides, and practice exams.
Hands-On Labs: VMware provides hands-on labs that allow you to practice working with NSX technologies in a simulated environment.
Online Courses: Consider enrolling in online courses offered by VMware or authorized training partners to deepen your understanding.
Practice Exams: Take advantage of practice exams to familiarize yourself with the exam format and test your knowledge.
Documentation: Refer to official VMware documentation for in-depth information on NSX technologies and concepts.
Benefits of the Certification:
Industry Recognition: VMware certifications are well-respected in the IT industry and can enhance your career opportunities.
Skill Validation: Earning the Associate VMware Network Virtualization certification validates your skills and knowledge in network virtualization technologies.
Career Advancement: This certification can open doors to roles related to network virtualization, virtual infrastructure management, and cloud computing.
Why choose ExamGood Exam 1V0-41.20 : Associate VMware Network Virtualization Questions
Thorough Coverage: ExamGood's 1V0-41.20 exam questions span a wide range of topics, ensuring you're well-prepared for the VMware Network Virtualization certification journey.
Realistic Simulation: These questions are meticulously crafted to mirror the format and complexity of the actual 1V0-41.20 exam, providing an authentic experience that boosts your confidence.
Applied Learning: Navigate through practical scenarios that mirror real-world virtualization challenges, enhancing your ability to apply theoretical concepts effectively.
Time Management Mastery: Practice under timed conditions, refining your time allocation skills for peak performance during the actual exam.
Personalized Assessment: Identify strengths and areas needing improvement by engaging with these questions, enabling targeted study and enhancing your overall readiness.
Heightened Confidence: Repetitive practice fosters familiarity, bolstering your confidence as you approach the exam with a poised mindset.
Flexible Learning Integration: Seamlessly blend exam preparation into your schedule, accommodating your timeline with ExamGood's adaptable resources.
Supplemental Value: ExamGood's questions complement your existing study materials, enhancing your grasp of vital VMware Network Virtualization concepts.
Budget-Friendly Excellence: Wisely invest in your exam journey with ExamGood's 1V0-41.20 exam questions, an affordable path to mastery.
In summary, choosing ExamGood's Exam 1V0-41.20: Associate VMware Network Virtualization Questions offers a comprehensive, realistic, and strategic approach to achieving your certification aspirations.
Related News
Related Certifications
Related Exams
Hot Exams
Related Certifications
Customer Feedback